SCHEDULE: (Approximate)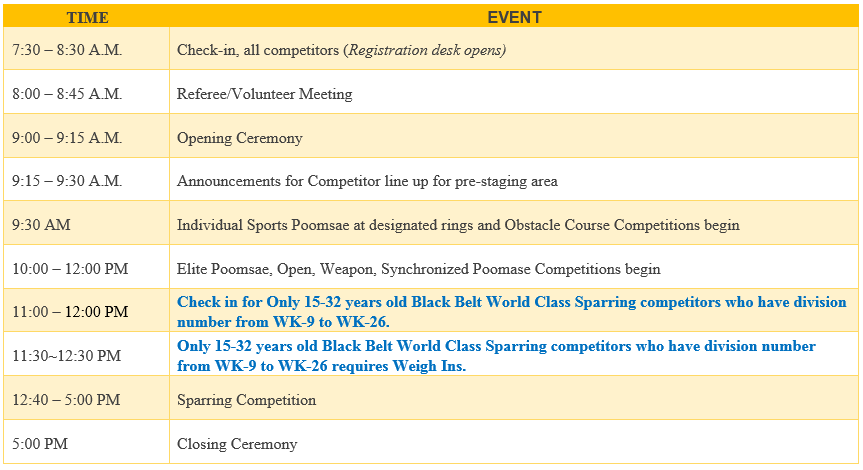 Note: Individual Sports Poomsae (Age Divisions: 12 years and over Black Belts ONLY) and World Class Sparring (Age Divisions: 8-9, 10-11, 12-14, 15-17, 18-32, 33 and up Black Belts ONLY) will directly report to Ring #1 to minimize the waiting period. Please pay attention to the announcements during the ceremony.
TOURNAMENT
Referees: All referees must assemble within the San Jose McEnery Convention Center no later than 8:00 am the day of the tournament. Please contact Grand Master Kwangil Bae at email: info@baetkd.com or phone (650)666-2960 for details or to express your interest.
VIP's: VIP Badges will be available the day of the tournament. (With registration form)
Coaches: Coach Passes will be available the day of the tournament and are dependent on the number of participants per school that register for the tournament (One pass for every 10 students per school). Otherwise, it will be $25 per coach pass. Passes must be worn by all coaches on the gym floor. Coach Passes may be revoked at the discretion of the Tournament Director.
Coach's Dress code: Coaches are prohibited from wearing jeans, shorts, tank-tops, hat/cap, or slippers while on the arena floor or coaching a competitor. Please follow the official USAT dress code for more details.
Spectators: All spectators (unless a designated VIP, Master, Referee, or Volunteer) must purchase an admission ticket and may not enter the arena floor at any time. Tickets will be available at the door the day of the tournament. General Admissions will be $10. Children 5 and under is free.
Competitors:  ONLINE REGISTRATION IS OPEN UNTIL May 19, AT 12 PM.
All belts:
1 Event $70
2 Events $85
3 Events $95
4 Events $105
5 Events $115
6 Events $125
SPARRING: World Class Division will be refereed by USAT Referees and WTF International Referees. 

The current USAT & WTF competition rules will govern this championship. Tournament director may modify some rules according to the local condition. They also reserve the right to combine or divide weight categories depending on the size of the groups.
Note: All Black Belts (Age Divisions: 8-9, 10-11, 12-14, 15-17, 18-32, 33 & Over) are considered a part of the World Class Sparring Division. Junior Safety Rules apply to the following Age Divisions: 8-9, 10-11, 12-14, 33 & Over. Full Head Contact applies to the following Age Divisions: 15-17 and 18-32. Divisions competing under Junior Safety Rules DO NOT have Weigh-Ins.
There is absolutely no head contact for competitors Age 7 & Under (Black Belt) and Age 11 & Under (All Color Belts)

Junior Safety Rules will apply to 8 – 14 YEAR OLD BLACK BELT, 12 & OVER COLOR BELT, and 33 & OVER BLACK BELT DIVISIONS. A head contact producing a minor injury (bruising, abrasion, or bleeding) will result in a one point deduction for the attacker. Excessive head contact resulting in the inability to continue will disqualify the attacker at the discretion of the referee.

Full head contact is allowed for 15 ~32 YEAR OLD BLACK BELTS ONLY with three points being awarded for legal head contact or 4 point for any spinning techniques. JSR: No head kicks with any turning kicks (spin hook kicks, back kick, turning round house kick…)
Important Notes: the sparring division for 15-17 and 18-32 year old black belts will be using the Daedo PSS System. Athletes in these age divisions are required to bring their own E-foot gear

Awards for World Class: 1st, 2nd, and two 3rd place winners in each division will be awarded medals, presented in the ring immediately following that division's final match.Weigh-ins: 15-32 Black Belt World class sparring divisions only. From 11:30-12:30 pm at the tournament site staging area. 
All World class division: all winners will get a medal after game over.
All 11 years old and under will get medals.
Mandatory Equipment:
Standard white, official, V-neck TKD uniform in good condition.
White USA, TKD, or WTF chest protector with red and blue scoring zones.
Foam shin protector (white only), forearm protector.
Groin protector (required for males) must be worn inside uniform.
USA TKD or WTF head gear and glove. (Gloves are only mandatory for the World Class Divisions)
Mouth guard.
No writing or decorations is allowed on any of the sparring equipment
Instep pad (for Junior Safety Rules only)
We also remind you that proper personal hygiene (i.e. short, clean nails; clean body and dobok) as well as no jewelry are part of the competition rules.
POOMSAE (Form): Individual WTF Sports Poomsae (World class division) competition will go by USAT rules. All Elite Poomsae Division, such as Poomsae, Synchronized, Open, and Weapons Poomsae – will go by scoring criteria. For more detailed information about poomsae and sparring rules, please refer to the competition rules.